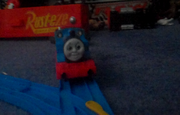 Thomas is a blue tank engine and the most code-cracking engine on Sodor. He bustles about with great friends.
Once, he derailed by some trucks after Percy warned him. Later, he had a broken bufferbeam but Flynn fixed it by bashing it. Later he was obducted by a zap of lightning sending him into a red black hole to the Trainboy54 world where he meets 6 engines in the same world.
Appearences
Edit
Specials:
Ad blocker interference detected!
Wikia is a free-to-use site that makes money from advertising. We have a modified experience for viewers using ad blockers

Wikia is not accessible if you've made further modifications. Remove the custom ad blocker rule(s) and the page will load as expected.